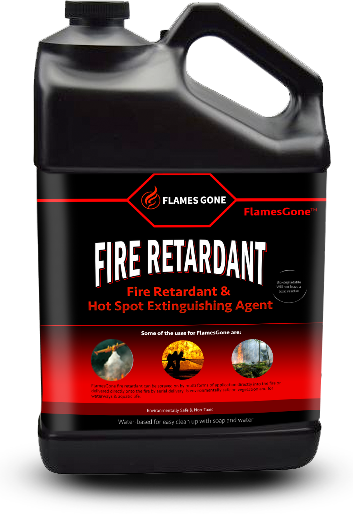 FlamesGone™
FlamesGone is a water based fire retardant, environmentally safe and non-toxic. It is a fire retardant product formulated for use in fighting fires where multiple substrates exist. FlamesGone is highly recommended for preventing fire spread, reducing heat, controlling smoldering areas and trees, eliminating hot spots, reducing ash and diminishing reoccuring flare-ups in the fighting of fires. FlamesGone is a superior safe and effective fire retardant product. It can outperform most fire retardant products, dramatically bringing a fire under control and keeping it there.
A comparative of FlamesGoneTM vs Other Fire Fighting Methods
| | | |
| --- | --- | --- |
| FlamesGone Application |          | Using other methods of Applications |
| Immediate reduction of power in the flame front |   | Other methods allow fire to gain momentum |
| Fire rapidly extinguished diminishing threat |   | Fire advancement and spread to additional locations |
| Reduces heat from the fire |   | Excessive heat prevents containment/accessibility |
| Polluting smoke - volume reduced/ eliminated |   | Intense smoke - environmental pollution |
| Ash & sparks - minimal distribution |   | Gels / Foams & Water evaporate - protection is gone |
| Environmental particulates reduced / eliminated |   | Irreversable effects on man, plants & animals |
| Reduced displacement/ loss to people and animals |   | Homes, habitat, grazing ranges and water destroyed |
| Expense and days of fighting the fire reduced |   | Budgets drained - fire fighting more expensive |
| Minimal health risk - fire fighter & homeowners |   | Greater risk of death, injury and smoke inhalation |
| Preserved esthetic beauty of area & dwellings |   | Geographical, wildlife & structural loss suffered |
| Cost effective- less labor, equipment and water |   | Labor, equipment & water containment expensive |
FlamesGone a fire retardant product designed for the 21st century. To assist the Fire Fighter and provide them protection while they are protecting homeowners and our ever so precious environment. Why put out fires with a garden hose, or pick and shovel? That can work but ... if you are trying to extinguish a raging fire, wildfire, extinguish hot spots and use for back-burn containment, the previous methods mentioned will not be as effective as using other more advanced methods for fighting fires. 
Application:  FlamesGone fire retardant can be sprayed into or delivered directly onto the fire.
| | |
| --- | --- |
| Features | Benefits |
| Water Based | Easy to apply - spray, drench, drop by air & misc. |
| No VOC | Environmentally safe - limits harmful particulates |
| Non Toxic | Safe for use on or near plants or animals |
| Biodegradable | Will not leave toxic residue or poisonous gas in waterways |
| Clear | In color - no harmful dyes or fillers |
| Odor | No immediate or lingering odor |
| Chemically Balanced     | Will not stain or deteriorate surrounding items |
| Safe | Accidental contact with living things - no effect |
| Compatability | Can be used in & around waterways - no toxic effects |
| Multipurpose | Can be used on dwellings/autos, not costly - will not bake on like gels |
** Contact Delta Pacific Technologies, Inc., for additional assistance and product information
We appreciate your interest in our products and we will be happy to answer any additional questions you may have. Please contact us, or speak with any of our product support specialists by calling:

714.634.3485
(M-F  9 to 5 PST)