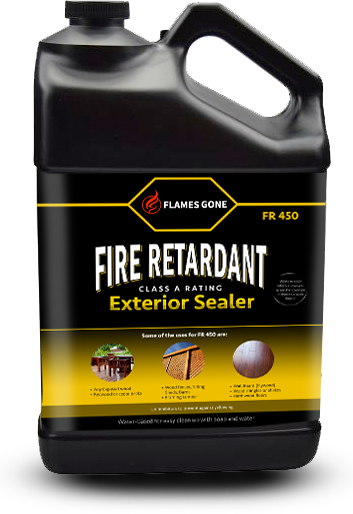 FR 450 Fire Retardant Exterior Sealer

FR 450 Fire retardant Sealer is a translucent water based sealer with superior weathering ability. It penetrates deep into the wood to protect the fibers from moisture and mildew. This penetrating action is unlike some sealers that put a glass like coating over the wood, which does not allow for the expansion and contraction of the wood. Because the wood is inhibited from breathing and flexing, the results are cracking, mildewing and early decaying of the wood. Additionally, FR 450 contains UV inhibitors to protect the wood from the devastating effect of sunlight (ultraviolet rays) and eliminates the yellowing effect. Developed in conjuction with WW 790, this creates a Class A rating.


SOME OF THE USES FOR THE FR 450 ARE:
Wood shingles or shakes
Redwood or cedar decks
Wood fences, Siding, Sheds, Barns
Hardwood floors
Framing lumber
Wall Board (plywood)
Cotton canvas such as that used for tents, cabanas
Any exposed wood
| | |
| --- | --- |
| FEATURES | BENEFITS |
| Translucent | Allows you to see the coverage |
| Water based | Easy clean up with soap and water |
| Low VOC | Will not harm the environment |
| Non-toxic | Does not require special handling |
| No Mineral Spirits or Petroleum | Non combustible wet or dry; no special storage |
| Appearance | Natural satin finish not a high gloss unnatural look |
| UV Inhibitors | Acts to prevent against yellowing |
| High solid content | Superior resistance to weathering |
| Penetrates Surface | Allows the wood to breathe and flex |
Enjoy the benefit of an excellent sealer that leaves a beautiful finish and the added security of knowing the treated structure surface is Fire Resistant.
APPLICATION:
Can be brushed, sprayed or dipped. To be used over WW 790 fire retardant for maximum fire protection. Surface and substrates must be thoroughly dry. Coat to refusal, depending upon the wood surface expected coverage rate 200 - 300 square feet per gallon. Drying time: Touch 2 - 4. Cure 72 hours - DO NOT APPLY if rain is imminent during this period.
We appreciate your interest in our products and we will be happy to answer any additional questions you may have. Please contact us, or speak with any of our product support specialists by calling:

714.634.3485
(M-F  9 to 5 PST)