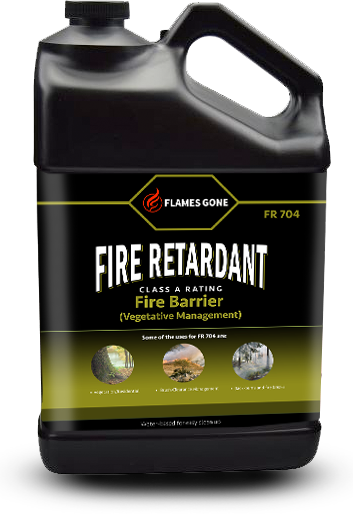 FR 704 Fire Barrier (Vegetative Management) 

Thank you for the opportunity to introduce you to one of Delta Pacific's state-of-the art firefighting arsenals.
FR 704 Fire Barrier, is a "durable burn" Vegetative Management product that can be used well in advance (days-weeks or preferably even months) of fire season. It is environmentally safe, non-toxic and clear in color. Vegetation that has been treated with FR 704 Fire Barrier can be ingested by wildlife without incident, will not affect aquatic inhabitants (fish) or their domain in waterways, will not impede plant life germination, The surrounding appearance of nature will remain the same. A quick fading vegetable color base colorant can be used for application tracking spray location if desired.
There is NO reason not to use this product when applied in a controlled setting with regular programs of application recommended for optimum protection.
FR 704 is a water-based fire retardant with a broad application developed for use in vegetative management, providing protection in advance and during grassland and forest fires. This fire retardant can be used to channel the advance of fire, enabling the general public and fire services personnel to more effectively maintain the minimum exposure to danger. It can be applied to almost any vegetation condition with less labor and expense than present conventional methods. 

It can effectively be utilized in places where backfires could be difficult to initiate. Breaks of 200 to 300 feet can be established to slow down the movement of fire. Additionally, FR 704 is clear, non-toxic and specially formulated with a surfactant (wetting agent) for rapid penetration. It does not change the appearance of vegetation nor leave any noticeable residue when properly applied. Application is very easy and readily adaptable to various methods.

The application of FR 704 will not impede germination when applied to the vegetation. In controlled settings, regularly scheduled application programs are recommended for optimum protection. Short/long-term trace marker colorant dyes are available and may be added to the product for tracking purposes.
USES:

Vegetation/residential defensible space protection-brush clearance management, back burns and fire breaks.


APPLICATION:
| | |
| --- | --- |
| VEGETATION HEIGHT | COVERAGE |
| 6" High or less   | 400 Sq. ft./gallon  |
| Acre Coverage | 43,560 Sq. ft./Acre   Divided by 400 Sq. ft./gallon=108.9 gallons |
| 6" to 12" High  | 300 Sq. ft./gallon  |
| Acre Coverage | 43,560 Sq. ft/Acre   Divided by 300 Sq. ft./gallon=145.2 gallons |
| 12" to 18" High  | 200 Sq. ft./gallon  |
| Acre Coverage | 43,560 Sq. ft./Acre   Divided by 200 Sq. ft./gallon=217.8 gallons |
| 18" to 24" High  | 150 Sq. ft./gallon  |
| Acre Coverage | 43,560 Sq. ft./Acre   Divided by 150 Sq. ft./gallon=290.4 gallons |
| 24" to 36" High  | 100 Sq. ft./gallon  |
| Acre Coverage |  43,560 Sq. ft./Acre   Divided by 100 Sq. ft./gallon=435.6 gallons |
We appreciate your interest in our products and we will be happy to answer any additional questions you may have. Please contact us, or speak with any of our product support specialists by calling:

714.634.3485
(M-F  9 to 5 PST)