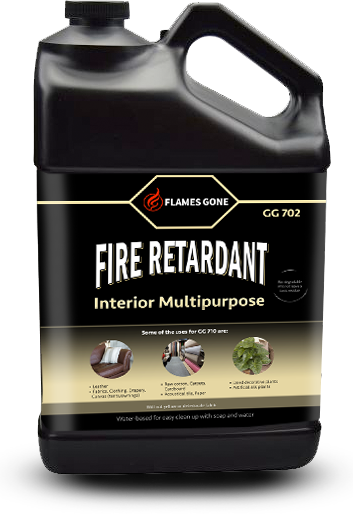 GG 702 Fire Retardant Multi-purpose
California State Fire Marshal Registration # C-19201
 
GG 702 is a clear fire retardant, water-based, non-toxic product formulated for use on natural and synthetic blends of fabrics and other porous substrates. GG 702 is a superior safe and effective fire retardant treatment. It was formulated to be user friendly and can satisfy fire retardant requirements and code regulations. 
SOME USES OF GG 702 ARE:
| | |
| --- | --- |
| Fabrics/ Felt | Artificial Silk Plants (If texture can absorb) |
| Clothing | Construction/Decorative & Interior Lumber |
| Drapery | Acoustical Tile |
| Upholstery | Foam (Dependent on porosity of the foam) |
| Canvas (Tents, Awnings) | Packing Material |
| Leather | Paper |
| Raw Cotton | Bedding / Mattress |
| Carpets | Cardboard |
| Dried Decorative Plants | Decorative Wreaths, Garlands, Wicker |
| Soundproofing Foam |   |
    FEATURES

 

   BENEFITS

 

   Water based

 

   Easy to apply

 

   No VOC

 

   Environmentally safe

 

   Non-toxic

 

   Safe for use near plants or animals

 

   Biodegradable

 

   Will not leave toxic residue

 

   Clear

 

   Will not affect color

 

   Non-moisture absorbing        

         

   Will not affect touch due to humidity   

     

   Chemically balanced

 

   Will not yellow or deteriorate fabric

 

   Safe

 

   Can be used on delicate fabrics

 

   Compatability

 

   Can be used with a fabric protector

 

   Multi-purpose

 

   Use on fabrics, paper & wood

 
GG 702 Fire retardant  was designed with the consumer in mind. It is formulated to provide industrial users with the superior performance.
 Contact Delta Pacific Technologies, Inc. Technical Department for additional information.

APPLICATION:
Can be brushed, sprayed or dipped. Surface must be thoroughly dry. Surface must be clean and free of all other coatings that would interfere with the penetration of GG 702. Lightweight fabric: 300 - 400 square feet per gallon. Heavy fabric: 150 - 200 square feet per gallon. Carpet: 100 - 200 square feet per gallon. Wood: 100 - 150 square feet per gallon. 
We appreciate your interest in our products and we will be happy to answer any additional questions you may have. Please contact us, or speak with any of our product support specialists by calling:

714.634.3485
(M-F  9 to 5 PST)