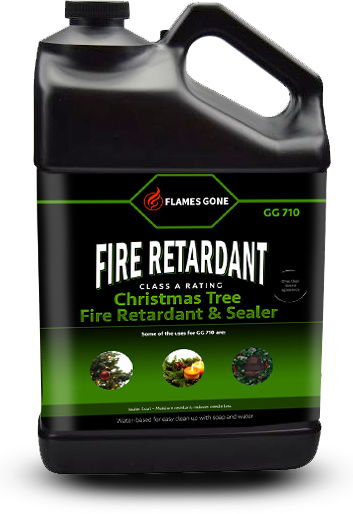 GG 710 Christmas Tree & Greenery Fire Retardant
California Registration # C-19202 
GG 710 a proprietary water based flame retardant for Christmas trees made with new technology resins, which provides unsurpassed protection and beauty. GG 710 does not change the appearance, color, texture, or flexibility of the tree. Made with a combination of resins that provide a sealer coat against weathering, GG 710 can be used for both interior and exterior applications. This product locks in greenery and tree's own moisture and is completely waterproof. May be used on live and artificial Christmas trees, plants, wreaths, foliage, etc. GG 710 can be tinted to prolong the tree's natural appearance.   
PHYSICAL CHARACTERISTICS: 
| | |
| --- | --- |
|    Dries clear  |    Natural appearance  |
|    Sealer coat  |    Moisture resistant; reduces needle loss  |
|    Coverage  |    Approximately 32 oz. per average 6 ft tree  |
|    Visible  |    Goes on milky white; you see coverage; minimizes over spray  |
|    Appearance  |    No discoloration of needles; not tacky when dry |
|    Quick drying         |    Dries to touch in 45 minutes or less depending on prevailing conditions  |
|    Water based |    Easy to apply and cleanup  |
|    Non-toxic |    Safe to use  |
APPLICATION:
Before flame proofing application, ensure the tree is dry and free of dust and debris. Locate the tree in a well ventilated area. Drying time is minimized when maximum circulation of airflow is achieved. If treated outside, the tree will dry faster on a warm and sunny day. If possible avoid damp, foggy, or overcast weather conditions; these increase the drying time. Do not apply the products in temperatures below 40°F.

If treated inside, place plastic drop cloth underneath tree before spraying. If overspray occurs to unprotected areas, wipe affected areas immediately with damp cloth to insure quick clean up. This product is easy to use. Before spraying, stir or agitate product gently in side-to-side motion, (Do not shake as this will create foaming). Prior to treating the entire tree, it is recommended to select a sample branch and apply the product. Apply fire retardant starting at the top of the tree and work your way down and around the tree. Spread the branches apart when spraying to ensure complete coverage inside foliage of tree. If spray nozzle should become clogged during application, simply remove nozzle and clean with water.
When applying, the product will appear a light milky white color allowing you to see the coverage. Do not over saturate the tree/greenery to dripping. Wait 5 - 10 minutes and reapply a second light coat. Tree/greenery will dry to a clear, light sheen finish in approximately 20 - 45 minutes in ideal conditions. Drying time could be longer depending on humidity, temperature, air circulation and other variables. It is preferable to wait approximately 24 hours after application to decorate the tree/greenery.
Note: Lead time for Christmas orders of 200 gallons or more is 4 weeks.
50% deposit of total order required before production can be scheduled.

*Please contact us for questions and pricing.
We appreciate your interest in our products and we will be happy to answer any additional questions you may have. Please contact us, or speak with any of our product support specialists by calling:

714.634.3485
(M-F  9 to 5 PST)