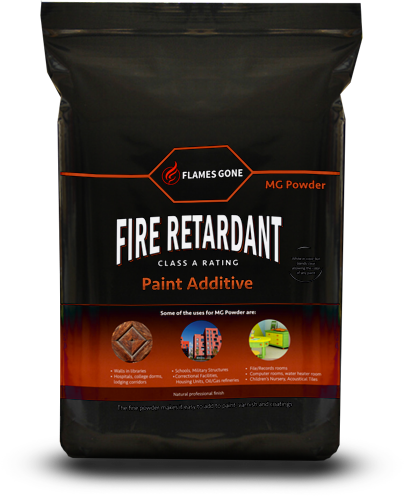 MG Powder
MG Powder (Fire retardant additive for paint, varnishes and coatings) is a state of the art fire retardant powder especially formulated as an additive to be added to both standard water, oil based paints and clear coatings, as well as other specialized applications, thus creating a Class A flame spread and 1-2 hour burn test rating. The powder is finely ground to allow complete dispersion resulting in minimum affect on the final sheen. MG Powder does not add toxins to the product thereby maintaining VOC levels. It will not affect the characteristics or ability of the original product. The additive only increases the coating resistance to combustion.
| | | |
| --- | --- | --- |
| GENERAL USES: | SPECIALTY USES: |   |
| Oil-based Paints                                           | Polyethylene | Unsaturated Polyester |
| Latex Paints | Vinyl Esters | Nylon |
| Clear Coatings | PVC | Polpropylene |
|   | Thermoplastic | Epoxy |
|   | Synthetic Rubber |   |
APPLICATION:
For water/oil-based paints, varnish, and coatings, standard mix is ten (10) ounces of MG Powder added to one (1) gallon of paint (12) ounces for class A, satisfies a 1-2 hour burn test]. Note that the ratio is a general formula for most products. Some products require modifications. Contact Delta's Technical Department for additional guidance. MG Powder does not affect the coverage rate of the treated paint, varnish, coating; therefore, the manufacturer's suggested coverage rates and other notes and cautions will apply.
SPECIAL NOTE:
Perform your pre-application test to determine if final coating is cosmetically acceptable.
PROCEDURES:
Add MG Powder directly into the desired quantity of paint, varnish, or coating. Using a high speed (2000 RPM +) electric drill with mixing blade, blend until powder is thoroughly mixed homogeneously (approximately 3 to 5 minutes dependent on speed and type of mixer). Allow to stand for approximately 5 minutes. If the product appears to be settled on the bottom of the container or lumps appear, blend for an additional five minutes. Your paint, varnish or coating can now be applied in accordance to instructions. Remaining unused product should be re-blended before future application.
We appreciate your interest in our products and we will be happy to answer any additional questions you may have. Please contact us, or speak with any of our product support specialists by calling:

714.634.3485
(M-F  9 to 5 PST)